Opening Hours : Monday to Saturday - 8:00 to 16:30
The practical working of PV Solar system is as follow:
The geyser wise together with the MPPT (Maximum Power Point Tracker) is the brain of the system and monitors and controls everything.
The geyser is fitted with an Dual PTC, AC/DC Element.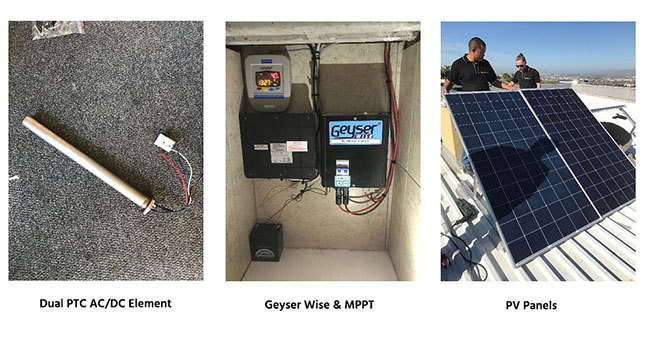 The PV (Photovoltaic) panel uses the sun to generate DC electricity that flows thru the MPPT to the element. The element heats the water in the geyser in the same way as in a normal application, but without using Eskom electricity.
As back-up, the geyser wise can be set to ensure that you are never without warm water. It is a general rule of thumb that the geyser wise is set to come on 2 hours before you want to take a shower. If the sun has not heated the water as per your request the geyser wise will allow the usage of electricity and in the case where the sun has heated the water to you required temperature, no electricity will be used.

The PTC titanium element used with Eskom electricity, can save you up to 15%.
When combined with PV Panels, savings can be as high as 70%